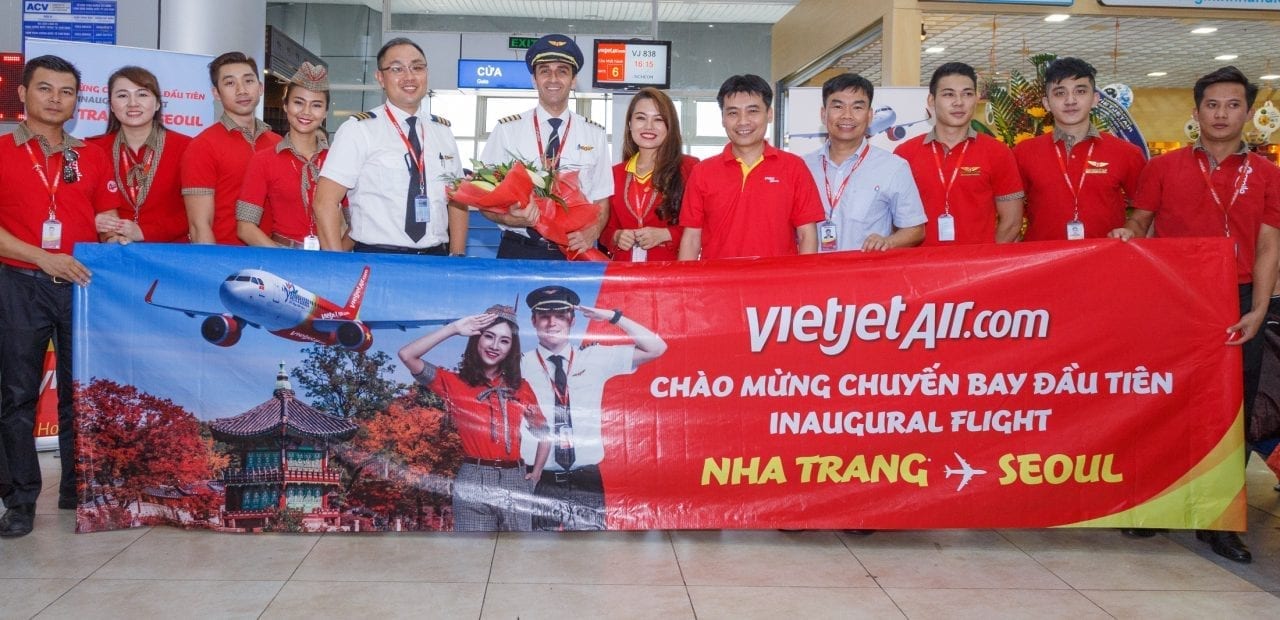 SINGAPORE – Vietjet Aviation Joint Stock Company has launched its newest route from Nha Trang, Vietnam to Seoul, South Korea on 6 December 2017.
Connecting two popular travel destinations, the new route seeks to serve the traveling demands of tourists and promote trade in the region. Vietjet now operates a total of six international routes connecting Vietnam and South Korea.
The route operates a daily return flight with a flight time per sector of approximately five hours. The flight departs from Nha Trang at 4:15pm (local time) and arrives at Seoul at 10:45pm (local time). The return leg departs at 1:50am (local time) and arrives at Nha Trang at 5:25am (local time).
Presented with the Best Ultra Low-Cost Airline Award 2018 by AirlineRatings.com, Vietjet brings exclusive festive deals with affordable fares and enjoyable flight experiences for top class travel across the region. Promotional flights are available for purchase between 1.00pm – 2.00pm daily on Vietjet's website.
Source : traveldailynews.asia
Unrivalled convenience to Hong Kong and beyond
Marking three years since its inaugural flight from Manchester to Hong Kong in December 2014, Cathay Pacific is this week boosting its direct flights into a daily service.
Increasing from five flights per week, the announcement responds to customers' growing demand and demonstrates the airline's confidence in the Northern Powerhouse.
Talking about the increase in frequency, James Ginns, Cathay Pacific's Regional General Manager Europe, said: "Boosting our Manchester flights into a daily service highlights the popularity of the route and the global importance of the Northern Powerhouse.  
"We are delighted to be part of the journey in forging further links between the North West, Asia and beyond. The Northern Powerhouse and Hong Kong share a parallel focus on science, innovation, technology and the arts; both dynamic cities are built on hard-working, business-savvy communities with a huge appetite for arts and culture. We would like to take this opportunity to thank those living in the region who have helped to make the route such a success."
Stephen Turner, Commercial Director at Manchester Airport, added: "For Cathay Pacific to go daily from Manchester Airport is a clear indication of the need, and desire, from across our catchment area to access Hong Kong directly.
"The route provides easy access for leisure and business travellers, plus unlocks a host of economic opportunities for both destinations. We are delighted how popular the route has been in its three years of operation, and look forward to working with the airline as it grows from the UK's global gateway in the North."
Whether travelling for business or leisure, people in the North West can enjoy a seamless connection via Hong Kong to over 190 other key destinations in Asia, Australia and New Zealand. Those travelling from Manchester to Hong Kong can experience Cathay Pacific's signature heartfelt service onboard its state-of-the-art Airbus A350 aircraft.
Committed to helping its customers live a Life Well Travelled, Cathay Pacific's new Airbus A350 aircraft offers enhanced inflight products, onboard Wi-Fi and advanced technologies for added relaxation and enjoyment on long-haul journeys.
Source : traveldailynews.asia
The 10 Key Trends in Asian Travel & Tourism report by Check-in Asia examines 10 defining trends in Asian tourism, ranging from Chinese and Indian outbound travel and domestic tourism in South East Asia to the growing appeal of sporting adventure, augmented reality and previously off-radar destinations and the looming shadow of overtourism
These trends highlight the diversity and scale of change across Asia's travel and consumer sectors, and illustrate the overlapping influences of domestic, intra-regional and international tourism in the region.
Key quotes from the report include:
"China's tourism juggernaut is transforming the travel sector from top to bottom."
"African tourism providers are ramping up their efforts to tap Asian travellers' growing appetite for locations beyond the ordinary."
"If you deposited a dollar every time a travel CEO in Asia dropped the phrase 'independent travellers,' you could buy Bitcoin."
"The overtourism issue will move further into the mainstream across Asia and worldwide in 2018.
Source: traveldailynews.asia
EXPLORE PARTS UNKNOWN PRESENTS VIDEO SERIES FOR ASIA WITH ANTHONY BOURDAIN
Guangzhou – China Southern Airlines, the largest airline in the People's Republic of China, is pleased to announce the launch of a new non-stop service between Guangzhou and Cairns- the latest destination in the airline's ever expanding network in Australia.
The new three-time-a-week direct flight is operated by China Southern's Airbus A330-300 aircraft in classical three-class configuration, including the renovated Business Class, the Premium Economy Class, and the Economy Class. Together with the premium service provided by China Southern's cabin crew and the most advanced inflight on-demand entertainment system in all classes, passengers will enjoy a superior flying experience when traveling between Guangzhou and Cairns.
Since 2011, China Southern Airlines has become the largest air carrier in the aviation market between China and Australia. With the successful launch of the Guangzhou-Cairns air service, China Southern currently operates nearly 180 weekly flights between the two countries in both directions, covering major metropolitan cities in Australia, including Sydney, Melbourne, Brisbane, Perth, Adelaide and now Cairns.
Located in Tropical north Queensland, Australia, Cairns is a famous tourist city with beautiful natural scenes and an ancient indigenous culture….
source: traveldailynews.asia
Four international startups selected by a regional program aimed at capitalising on the Kingdom's booming tourism market have begun scouting out Cambodia's largest cities looking for ways to expand.
The Mekong Innovative Startup Tourism (MIST) platform, operated by the Mekong Business Initiative (MBI), partnered with Cambodian business development firm Confluences Asia to lead tours for all four startups. The MIST platform was launched earlier this year as a tool for boosting private-sector-led innovation in the tourism industry.
Soreasmey Ke Bin, managing director of Confluences Asia, explained that Vietnam-based startup Di Vui, which offers tours and activities geared toward Vietnamese tourists, visited Phnom Penh and Siem Reap last week and met with over a dozen potential local partners as well as representatives from the Cambodia Tourism Federation and Ministry of Tourism.
According to Soreasmey, Di Vui is now choosing its local partners and will likely offer an expanded menu of services beginning as early as January.
Urban Tales, another Vietnamese startup which offers treasure hunts in international cities, is meeting with a dozen Phnom Penh-based tourism agencies and operators this week in the hopes of bringing its interactive city tour to the capital.
Thai-based TakeMeTour, which offers one-day city tours, and Malaysian-based BorderPass, which hastens immigration clearance for business travellers, will be visiting next month.
Source :phnompenhpost.com
Virgin Australia unveiled plans for a comprehensive redevelopment of its domestic terminal at Melbourne Airport's Terminal 3 ('T3') over the next three years.
Kuala Lumpur, Malaysia – AVIAREPS, the global leader in tourism, aviation and hospitality representation with 65 offices in 47 countries around the world, has been appointed by Bassaka Air,
The 22nd Angkor Wat International Half Marathon concluded yesterday morning around the temples of Angkor Wat in Siem Reap,
Mumbai International Airport has broken its own record of 935 on Friday by handling 969 takeoffs and landings in its single runway.
Dublin-based Irish aircraft leasing company Amedeo is starting its own airline because it can't find anyone to lease its A380 superjumbos.