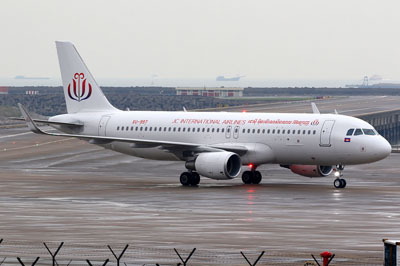 On 1 June 2017 ,Phnom Penh: AJW Group, an aircraft maintenance firm headquartered in the United Kingdom, has recently signed a multimillion-dollar five-year deal to support JC International Airlines' fleet of Airbus aircraft.
According to the group's statement, AJW has won a power-by-the-hour (PBH) component support contract with JC (Cambodia) International Airlines for its new A320 fleet.
The multi-million dollar five-year deal, with the option of a five year extension, includes component support and the leasing of the Main Base Kit, for the airline's fleet of 20 new A320s.
Five aircraft are due to be delivered in the first year, with the contract to take effect in June, it said.
AJW China's sales director, Nick Ward, said AJW has the knowledge and experience to support JC (Cambodia) International Airlines as it continues to expand its operations.
Registered in 2016, as JC (Cambodia) International Airlines Co Ltd, the venture is described as a "local International airline in Cambodia invested exclusively by Yunnan Jingcheng Group Co Ltd," with its main operating base in Phnom Penh international airport.
Click here Read More….
Comments
comments